Southampton Grand Harbour Hotel are the winners of our summer competition to win a rib blast on board one of our skippered ribcraft powerboats!
Being located on Southampton's waterfront, Southampton GH are the perfect venue to host our water events from! They also have a vast amount of bedrooms and meeting rooms that can hold up to 500 guests making it also a fabulous venue for any of our indoor teambuilding events from our F1 Challenge to our Chocolate Making.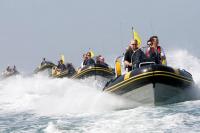 To find out more about hosting your next Teambuilding event at Southampton Grand Harbour Hotel give our events team a call on 01590 676599.
Look forward to seeing you on the water Grand Harbour!